Let's RACE OUT HUNGER!!!!!
Tuesday, Aug 23rd, 2016 6-8pm
Pollard Raceway Park – 74 Bandit St, Taylorsville, NC
(Behind the old Harry Gant's Steakhouse on Hwy 90 E)

Bring a monetary donation and/or canned food items to be given to Hiddenite Food Pantry. Watch East Taylorsville Baptist race against Joel Harbinson's law office. You know that will be a fun race because Jamie Steele and Joel Harbinson are always going at it on Facebook!!!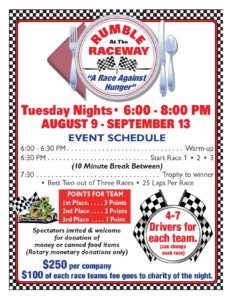 Races are being held each Tuesday night (same time, same place) between Aug 9 and Sept 13, 2016 to benefit various food pantries in Alexander County. See flyer for details.
Contact Diana Jolly or Judy Wilson for more information.